Part 2: The True State Of The Qur'an
Back To Part 2 Index
FOOTNOTES
recognise these 'corrections' by both the small yas and small alifs which have been written above the text in, say Q2:126, in the 1924 Egyptian text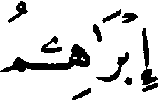 whereas the Pakistani Taj uses the short vertical stroke underneath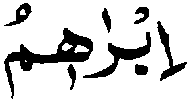 to indicate "something is missing here!". The Warsh (Medinan) text was written correctly, with ya

but is also without the alif.
One other example of a missing ya as given by Hamidullah is Q7:196. In his List B he indicates that a 'corrected' version would have an extra ya,

. This is what the Turkish

(and Iranian

) graphic form is like. Yet, when we look at the Egyptian text it has a small 'ya' above the text

thus indicating another reason why the Egyptians had to reject the Turkish text - to re-instate the errors.
But, we note the 1924 Egyptian has placed the 'shadda' above the small ya to indicate that in fact 2 yas were missing from 'Uthman's graphic form - or is it that 2 yas were added by the 'new reading', or...?
On the other hand, the fact that the Warsh text contains a second ya in the graphic form just after the first (

), actually raises our suspicions, for it doesn't match the 'corrected' graphic form of, for example, the Iranian text which joined everything together

. Perhaps, then, the content of the Warsh graphic form is just another mistake which has been accepted as 'Divine', or is it that the other one is the mistake? The Pakistani Taj (as in the Swahili) has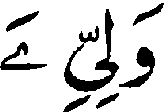 as also the Indian

both showing signs of the Warsh graphic form35, indicating once again that they are a mixture of the Warsh (Medinan) and Hafs (Kufan) graphic forms.
But perhaps the Warsh's ya in Q7:196 is indicative that it has been 'corrected'. We say this because in Q106:1, 2 noted earlier, one finds the Warsh text with this very ya in the graphic form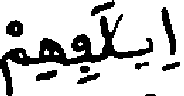 despite ad-Dani's declaration that the ya in Q106:2 was missing from all the 'Uthmanic manuscripts!
However, we noted the 1924 Egyptian Hafs text has 'added' a small yain the same line as the graphic form, not above it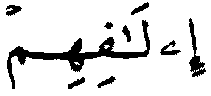 but which is obviously meant to 'replace' the missing ya. However, all the texts have the same word spelled correctly in Q106:1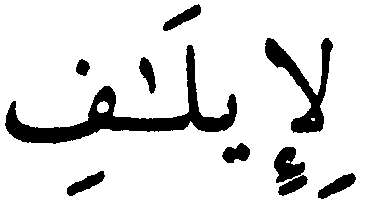 .
In terms of the 'original' texts, according to the 1924 Egyptian Edition this word was spelled correctly in one aya (Q106:1), and incorrectly in the next

.
Yet again, we are confronted with the 'Oral Tradition' declaring that
152